Our goal at The ARK is to provide you the event you want by offering the services you need. We have a full range of services to offer you, from complete Packages to A La Carte options, and Food & Beverage services to Full Bar packages. To top it off, the service of our praise-generating staff is present at every point in your journey with us.
Social Gatherings
The ARK offers several Wedding Packages for those who prefer the simplicity of all the services bundled together at a set price. Budgeting could not be easier with per person pricing. But, where we really shine is working from your vision of the perfect event. The Ark can help you select from our extensive list of A La Carte offerings to build your dream. Our experience of hosting hundreds of events, allows us to offer suggestions and solutions to potential problems you may not have even thought about. Let The ARK take the anxiety out of planning your special day.
Business Gatherings
The ARK offers several levels of Day Meeting Packages (DMPs). And just like our Wedding Packages, they offer the simplicity of all the services bundled together at a set price. Just pick one that meets your needs – convenient and budget friendly. The ARK also offers extensive A La Carte options that can be tailored to your specific requirements. They can also be added to any of our Packages. We have over 30 years of planning and hosting successful events, so let us help you make the right choices. Interested in Hybrid Meetings (Webcasts, Virtual Meetings or Seminars)? Find out more here.
Transparent Pricing
The ARK prides itself on showing you the total cost of your event and not tacking on hidden fees. If you don't change any of the services contracted, the price remains what we agreed upon. If you need to change any services (this happens) we'll show you the new bottom line before your event. We want to call you after the event to see how everything went, not to say you owe us more money. This is just one of the stellar services offered by The ARK.
Services Offered:
Day Meeting Packages
Hybrid Meetings
Delicious A-La-Carte Options
Wedding Packages
Hosted or Cash Full Bar Service
Choose Standard or Upgraded Linens and Decorations
Customize Your Event To Meet Your Dreams or Budget
Ample, Free Parking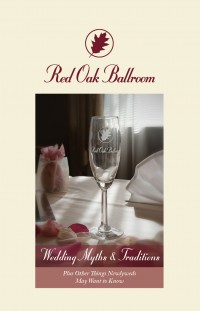 THE ARK
Wedding Myths & Traditions Booklet
by The Red Oak Ballroom
Ever wonder why the groom tosses the bride 's garter? Why does the bride wear a wedding veil? Does Germany have different wedding traditions? These questions and many more, are answered in our "Wedding Myths & Traditions" booklet. The publication is brought to you by the Red Oak Ballroom, which also owns and operates The ARK.
If you would like a copy, contact us now to set up an appointment to tour The ARK. We'll have a complimentary copy of our Wedding Myths & Traditions booklet waiting for you.
THE ARK
Imagine the Possibilities:
---
We have a world of food options. From passed hor d'oeuvres to seated meals.
Guests should come hungry and be ready to be impressed. Hosted and cash bar service
options are available. We also have several bar packages if you prefer to make choices simpler.
Note: Outside alcohol is allowed following TABC protocols.