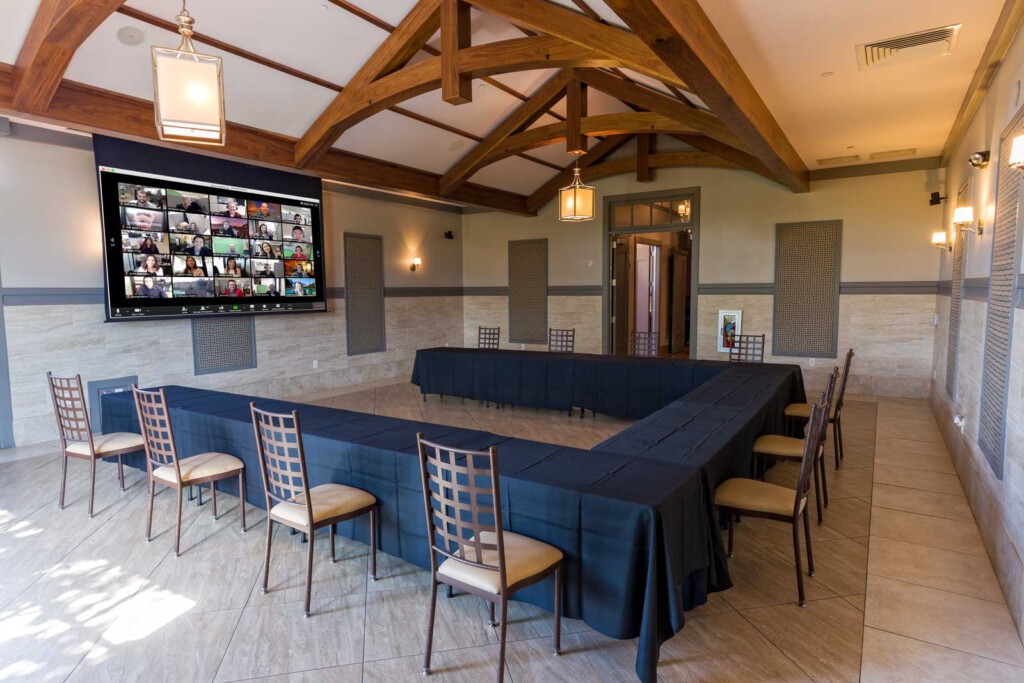 THE ARK
Try a Hybrid Meeting
New Options to Make Going Off-site Even Easier
In addition to our regular list of services, The ARK is now offering a selection of Virtual Meeting packages. They are designed to support a variety of needs and events, such as:
Webcasting – Presenters can share their screen. Audio is two-way with Participants.
Virtual Training Meetings – Presenter is on camera and shares screen.
Participants are on their video and audio.
Virtual Seminar – Up to 8 Presenters on camera, sharing screens and audio.
Multi-Room Conference – Same as Virtual Seminar, but adds additional rooms for Participants and Attendees.
To learn more about these services, please call our venue and speak with one of our Sales Managers. All of these packages can be adjusted to your specific needs.
Your Space Not Large Enough for Social Distancing?
Many companies are finding their own, on-site meeting spaces are not large enough to accommodate "social distancing" guidelines. The ARK can help.
Our facility is designed for maximum flexibility in terms of room sizes, and the types of events we can handle. So, if you simply need to get off site, or if your own on-site space will not allow you to properly "social distance" or provide the right environment for an upcoming event, give us a call. Let us worry about the event details, so you can focus on the success of your meeting.
Health & Safety First – The ARK is taking steps to ensure the safety of our guests and staff while on property:
To read our entire guidelines for hosting events at The ARK and the Norris Centers, please click here.
To watch our COVID-19 Video about what Norris is doing to protect the health and safety of our guests, please click here.